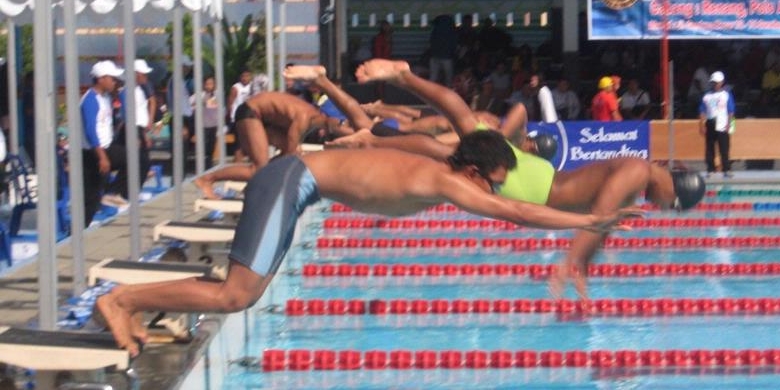 Swimming pool competition between students LIMA ready to be held, organized swimming competitions Student League will take place over two days on 29-30 June 2013 held at the Swimming Pool Simprug Pertamina, Jakarta.
Appropriate target LIMA, expressed readiness to join the ten universities, six of whom have completed the requirements prescribed by LIMA, while four other universities are still in the process of completing the requirements document.
Tenth of the university is the State University of Jakarta, Universitas Mercu Buana, Pelita Harapan University, Trisakti University, London School of Public Relations, University of Karachi Siliwangi, STKIP Pasundan, Universitas Pendidikan Indonesia, Padjadjaran University, and State University of Surabaya.
Manager of the Jakarta State University swimming team, Iqbal Hambali, expressed his readiness to compete at Swimming LIMA 2013. "Technically, our team is ready to compete, there are few constraints on the data collection process swimmers, hopefully we can proceed as soon as possible," said Iqbal.
At this inaugural season, FIVE Swimming will play 15 numbers for men and women, consisting of freestyle, back, butterfly, and chest each bring into the distance 50m, 100m, and 200m for men and women. Three other numbers came from the 200m individual medley, the team event two freestyle relay and 4x100m medley relay for boys and girls.
FIVE CEO Ryan Widodo claimed it held a swimming competition readiness is one of sport's measurable. "Pool is a new branch that we want to work on, we've worked with PB PRSI and the very productive collaboration. We hope to run FIVE Swimming well," Ryan said.
LIMA Swimming is a sport competition organized by third antarmahasiswa LIMA, LIMA has previously held a successful LIMA LIMA Basketball and Badminton.