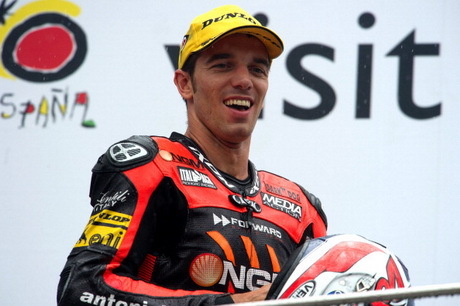 De Angelis Replace Spies at Laguna Seca
Siena – Alex de Angelis will get the chance to perform again in the MotoGP class. Not yet recovered Ben Spies made ​​De Angelis will race for Pramac Ducati in MotoGP United States.
Spies is still struggling with a shoulder injury after a severe accident at Malaysian MotoGP, in October last year. He can follow the race in Qatar and Austin this year, but then absent.
In the last five series, Spies position was replaced by a Ducati test rider, Michele Pirro. Pirro appeared tolerable and able to get 30 points from the five series.
But, Pirro will not be able to fill the position of U.S. Spies in MotoGP, July 21. The reason, he should follow the test session with Ducati at the Misano Circuit, July 23 to 25.
Therefore, the Pramac Ducati rider pointing De Angelis as a substitute at Laguna Seca. Incidentally, De Angelis also had no agenda on July 21 for the Moto2 class was contested at Laguna Seca.
De Angelis is now competing in the Moto2 and defend the Forward Racing team. Previously, it appeared San Marino rider in the MotoGP class with the Honda Gresini in 2008 and 2009. She also appeared in three series with Interwetten Honda in 2010 to replace the injured Hiroshi Aoyama.
Meanwhile, Spies is still undergoing treatment is expected to comeback in MotoGP Indianapolis, 18 August. The next MotoGP series is the German MotoGP at the Sachsenring circuit, July 14.