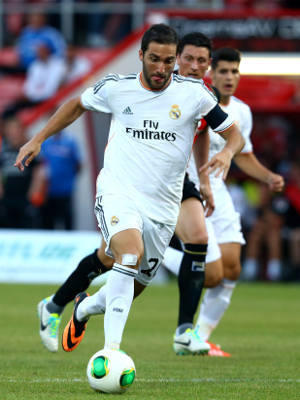 Naples – Before finally docked to Napoli, Gonzalo Higuain chased by Juventus. Higuain decision was welcomed by Diego Maradona, who is a living legend Il Partenopei.
After being adrift future, Higuain claimed another step to join Napoli. Real Madrid have received an offer worth 37 million euros given by Aurelio De Laurentiis.
Higuain is currently reported to be in Rome and immediately undergo a medical to finalize his move to the city of Naples. Higuain arrival obviously be good news for Napoli who had just been left by his goal machine, Edinson Cavani.
With equivalent capabilities Cavani, Higuain could predict success at this club as Cavani has been given.
"Got news that Pipita is the new Napoli striker made ​​my happiness more than doubled," Maradona said as quoted by Football Italia.
"I am also delighted at the player who has always been my favorite child. I'm sure he can give satisfaction to the Napoli fans that should be respected by the rest of Italy and Europe because it is a clear example of the values ​​of sport and fair competition," he continued.
"It is indeed true Argentinian would never play in Turin."
Higuain and Maradona relationship is fairly close as 25-year-old striker was a mainstay up front when handled Maradona's Argentina in the 2010 World Cup. Naturally, if Maradona Higuaín very excited to play at Napoli, who also made ​​his name.
"I wish the best for Higuain, Napoli and the rest of the Neapolitan people," said he.