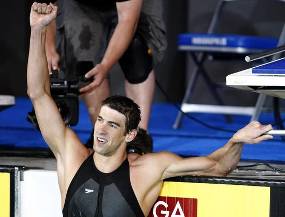 Indianapolis – Just about two months after the post back in the pool slide was suspended, Michael Phelps has recorded a special achievement. He broke the world record 100m butterfly.
Phelps broke the record while competing in the final of the 100 m butterfly U.S. National Championships in Indianapolis, Thursday (09/07/2009) local time, with a time of 50.22 seconds.
Note that sharpens the previous world record, which is 50.40 seconds set by compatriot Phelps, Ian Crocker, in Montreal in 2005.
Phelps followed by Tyler McGill who finished second with a time of 51.06 seconds. While Aaron Peirsol clocked 51.30 seconds for third rank.
This is the first world record was broken by Phelps after a 24-year-old boy broke seven world records – four personal record and a record three teams – at the Beijing Olympics last year.
Phelps is just two months returned to the pool after being suspended for three months by USA Swimming last February due to the middle of the picture taking bong (sucker marijuana) in the British tabloid News of the World.
In 2003, Phelps broke the world record in fact ever 100m butterfly in Barcelona, but the day after the record-breaking Crocker and sharpening twice.
"I still remember the day I broke the world record and the next day Crock Crock broke it and hang on. Could pass again today means a lot," said Phelps told the Associated Press.
Phelps currently holds eight world records, the 400m medley, 200m freestyle, 200m butterfly, 200m medley 100m butterfly (individual records), and the 4×100 m freestyle, 4×200 m freestyle and the 4×100 m medley (team record).