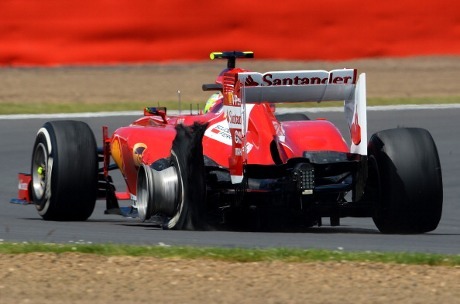 Silverstone – The Pirelli reveals several possible causes of tire burst incidents including curbs fringe circuit conditions. Allegation was immediately denied by the manager of Silverstone Circuit.
In the British Grand Prix at Silverstone Circuit on Sunday (06/30/2013) evening local time, there were at least four riders who had broken tire.
Over the incident, the tire supplier arena racing, pole, Pirelli, promised to conduct an investigation. Although reluctant to speculate, they already mentioned some estimates about the cause of several incidents at Silverstone.
On suspicion of curb suburban conditions unsafe, President of the British Racing Drivers Club, Derek Warwick, direct defense.
"Fringe curbs has been used since 2009. We've seen a lot of cars drove through the outskirts of the curb, and they are not having problems," said Warwick as reported by Reuters.
"We ensure the outskirts curbs have been checked by the FIA and the edges of it in accordance with applicable regulations."
"We have to ensure a good race here at Silverstone, to bring the audience back to the circuit next year. So, if say I panicked a statement that it is an understatement," he added.