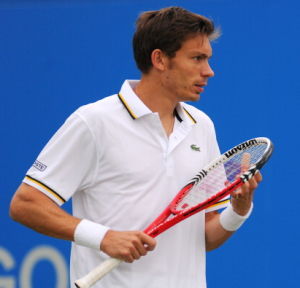 London – Nicolas Mahut is currently ranked 224 in the world, was grateful to get a wild card tournament ever make it history: Wimbledon.
"I'm extremely grateful to obtain wild card in Wimbleon. Thank you very much for the (All England) Club! Always feels special to play in this prestigious place!" Mahut wrote via his Twitter account on Wednesday (06/12/2013).
Of the ranking is too far away, I can not actually Mahut Wimbledon tournament which starts on 24 June it. However, the organizers are pleased to give him a chance through a wild card.
Mahut is now 31-years will always be remembered in the creation of a record of the longest tennis match in history, when he and John Isner spent a total of 11 hours five minutes in their duel in the first round of Wimbledon 2010.
Later Mahut concentrate more on the doubles. In the recent French Open she and her partner fellow Frenchman Michael Llondra, broke through the final round, before losing to Bryan Brothers duet.
Related history, Isner-Mahut match needs three days to stop at 6-4, 3-6, 6-7 (7-9), 7-6 (7-3), 70-68 for Isner.
History was instantly immortalized Wimbledon manager in the form of a plaque mounted on the complex All England Lawn Tennis Championships at the beginning of the year. The play "crazy" is the "inscription".
The fifth set alone spends eight hours 11 minutes, or 98 minutes longer than the previous record which was recorded when Fabrice Santoro beat Arnaud Clement at the 2004 French Open.
Performing "weird" Isner-Mahut was not only the longest match record, but also the most games in a set (138), in a one-party (183), most aces by a player (Isner 113), and total aces (216).
The effect is for Isner, he immediately fell in the next game within 74 minutes. Mahut even depressed for three months of the incident and defeat it.
Mahut and Isner has indeed been a close friend since the duel "terrible" it. They even had time to try playing doubles together, but it did not go well.
If Mahut continues to decline his achievements, not so with Isner. The American is currently ranked 21 in the world.