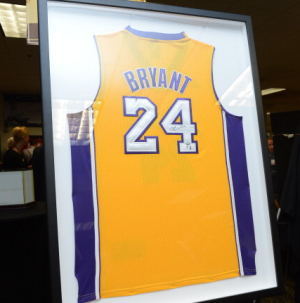 Los Angeles – Six of Kobe Bryant memorabilia sold in an auction to support one of the charities the LA Lakers basketball star owned it. A total of 433 531 U.S. dollars which obtains, or approximately USD 4.3 billion.
The auction was for one month and officially closed on Saturday (20/7) morning local time. The two most expensive item sold was a pair of rings that Kobe had given to his parents.
The ring is a ring championship 2000 season, when Kobe led the Lakers to the NBA championship for the 12th time. A ring given to her father, Joe, sold for 174 184 dollars, equivalent to Rp 1.7 billion. While the rings were passed on to her mother, Pamela, sold 108,153 dollars or about $ 1 billion.
Other items sold in this auction include All-Stars ring maroon for 55 597 dollars (USD 550 million), two high school basketball Kobe uniform and a medal of the championship high school.
The auction itself was colored by controversy when Bryant sued the company that did the auction, Goldin Auctions, because he felt his mother had no right to sell the goods. But this case is resolved after both parents Kobe apologized and thanked for financial support that has been given.
As part of the auction, the company donated 62,565 U.S. dollars to The Bully Project, a charity supported by Kobe. As reported by Yahoo Sports.