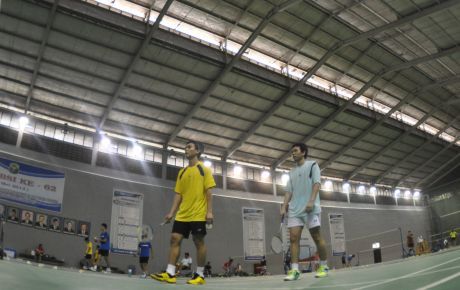 Jakarta – The badminton Cipayung national training residents face a "dilemma" every time the month of Ramadan arrives. How do they get around fast, while strenuous exercise also can not be compromised?
Every day the players practiced twice the national training, morning and afternoon, except Wednesday morning only. Saturday and Sunday while they were off. Currently they practice to prepare for the World Championships in Guangzhou, China, August 5 to 11 next.
There was no difference in the portion of practice on normal days with during the fasting month. Their morning practice from 7 to 10, while the afternoon from 4 to 6 o'clock.
"This time my Ramadan fasting four days, only on weekends (Saturday and Sunday)," said the specialist players mixed doubles, Tontowi Ahmad, when met detiksport yesterday (23/7).
However, not all completed fast. "Last Sunday I tried fasting, but it turned out to not be feeling well. Felt like fainting at practice Monday," added the pair Liliyana Natsir.
Men's singles player Tommy Sugiarto also choose not to fast if there is exercise, but try to live on Saturdays and Sundays.
"I've tried to keep the fast, on the second day, but I actually had to go to the hospital because of lack of fluids," said the eighth ranked player in the world.
While the men's doubles players Ulinnuha Muhammad admitted trying to remain abstinent even have to undergo training at the national training weight.
"It was not unusual since the club first. Mrs. advised that I always intend to fast. Issue if later forced to stop in the middle of the road, no problem," said the player who is familiarly called Ulin it.
Until yesterday he said the new one missed fasting. "Yes dikuat-reinforced. Temptation is greatest in the middle of the day, even when it's afternoon was no problem, including when it comes to the afternoon practice."
So how fast they pay the debt? Tontowi choose to pay fidyah. "According to the mother, fidyah pay up to Rp 15 million. Was since who knows when I'm not fasting," he said.
Tommy, who claims often perforated fasting since last 10 years, combining pay fidyah with fasting in other months when the weeekend.
"I often think when pursuing the hereafter, not just merely take care of the world," lirihnya. "How to pay for fasting on the weekends when I can do outside of national training. Looking back now it may be easier to pay fidyah."
The Ulin, who rarely breaking his fast, his fast would prefer to pay debts in the ordinary.