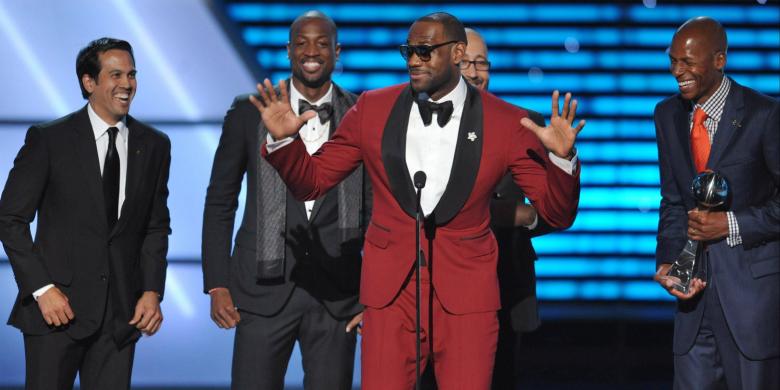 LeBron James and Serena Williams got a gift as the best male and female athletes Espy version (Excellence in Sports Performance Yearly) Award 2013, held at the Kodak Theatre on Wednesday (07/17/2013) local time.
James, who had just delivered the Miami Heat won the NBA title two years in a row, beating candidates such as Miguel Cabrera baseball players, football players Adrian Peterson, and swimmer Michael Phelps.
This is the title back-to-back for James. In addition, he was also named the Best Championship Performance and Best NBA Player.
After receiving the trophy as the best athlete, James-nominee name another nominee, then said, "(Trophy) for the four of us, man, I just keep it in my house."
On the women's side, Williams defeated gymnast Gabby Douglas, swimmer Missy Franklin, and basketball player Brittney Griner. Aside from being selected as the best female athlete, Williams was also selected as the best tennis player.
Other tennis player ever to be selected as the best athlete is Monica Seles (1993) and Venus Williams (2002).
Espy Award is an annual event to give awards to athletes, individuals or the best team, which is initiated by one of the cable television network in the United States, ESPN.
The event was held since 1993, in February or March, every year. However, since 2003, the event was held on Wednesday in July, the day after the Major League Baseball (MLB) All-Star Game.
This is the season when the branches of the sport in the U.S. is not being rolled, such as the National Basketball Association (NBA), National Football League (NFL), and the National Hockey League (NHL).